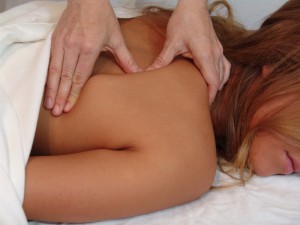 Massage therapy encompasses many different techniques. In general, therapists press, rub, and otherwise manipulate the muscles and other soft tissues of the body. They most often use their hands and fingers, but may use their forearms, elbows, or feet.
People use massage for a variety of health-related purposes, including to relieve pain, rehabilitate sports injuries, reduce stress, increase relaxation, address anxiety and depression, and aid general wellness.
Our massage therapist, Tina Withrow, LMT is a graduate of Dayton School of Medical Massage. Each session is tailored to meet individual needs by combining several techniques such as: swedish massage, deep tissue work, sports massage, lymphatic drainage, reflexology, certified pre-natal, certified hot stone, trigger point therapy and myofascial release. 
Each technique is uniquely designed to achieve a specific goal.
Craniosacral massage: Gentle pressure is applied to the head and spine to correct imbalances and restore the flow of cerebrospinal fluid in these areas.
Myofascial release: Gentle pressure and body positioning are used to relax and stretch the muscles, fascia (connective tissue), and related structures. Both chiropractors and massage therapists use this technique.
On-site/chair massage: On-site massage therapists use a portable chair to deliver brief, upper body massages to fully-clothed people in offices and other public places.
Swedish massage: A variety of strokes and pressure techniques are used to enhance the flow of blood to the heart, remove waste products from the tissues, stretch ligaments and tendons, and ease physical and emotional tension.
Trigger point therapy: Pressure is applied to "trigger points" (tender areas where the muscles have been damaged) to alleviate muscle spasms and pain.
How Does Massage Work?
For centuries, human touch has been shown to be emotionally and physically healing. Particular massage techniques may either stimulate or calm the body's muscles and tissues to create a desired effect. When a practitioner massages soft tissue, electrical signals are transmitted both to the local area and throughout the body. These signals, in combination with the healing properties of touch, help heal damaged muscle, stimulate circulation, clear waste products via the lymphatic system, boost the activity of the immune system, reduce pain and tension, and induce a calming effect. Massage may also enhance well-being by stimulating the release of endorphins (natural painkillers and mood elevators) and reducing levels of certain stress hormones.
The Benefits of Massage
In general, massage is believed to support healing, boost energy, reduce recovery time after an injury, ease pain, and enhance relaxation, mood, and well-being. It is useful for many musculoskeletal problems, such as low back pain, osteoarthritis, fibromyalgia, and sprains and strains. Massage may also relieve depression in people with chronic fatigue syndrome, ease chronic constipation (when the technique is performed in the abdominal area), decrease swelling after a mastectomy (removal of the breast), alleviate sleep disorders, and improve self-image. In the workplace, massage has been shown to melt away stress and enhance mental alertness. One study found that deep tissue massage reduced blood pressure levels (an average reduction of 10.4 mm Hg in systolic pressure and a diastolic pressure reduction of 5.3 mm Hg). Other studies show that massage may have immediate beneficial effects on pain and mood among patients with advanced cancer.
Clinical studies show that massage relieves chronic back pain more effectively than other treatments (including acupuncture and conventional medical care for this condition with education via books and videos) and, in many cases, costs less than other treatments. Mothers and newborns also appear to benefit from massage. Mothers trained to massage their infants often feel less depressed and have a better emotional bond with their babies. Newborns who receive massage from their mothers also tend to cry less, and are more active, alert, and sociable. Premature babies who receive massage therapy have been shown to gain weight faster than preemies who do not receive this type of therapy. Infants who receive massage regularly may also sleep better, be less gassy or colicky, and have better body awareness as well as more regular digestion.
Portions of this information were taken from:
http://www.umm.edu/altmed/articles/massage-000354.htm
http://nccam.nih.gov/health/massage/