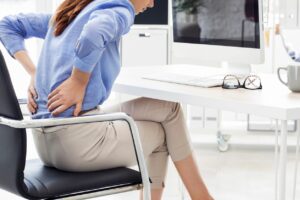 Musculoskeletal pain (MSP) is a challenging situation for both patients and doctors. Many adults have experienced one or more episodes of musculoskeletal pain at some time of their lives.  Of those with MSP, about 39-45% have long-lasting problems that require health care consultation. Musculoskeletal pain can negatively affect quality of life and impose significant socioeconomic problems. Recent guidelines recommend the implementation of preventative strategies first to minimize the use of medications. Despite being relatively common, chronic musculoskeletal pain (cMSP) is still viewed by some as a symptom of another disease rather than its own condition, and is therefore poorly managed. This is worsened by other challenges such as education gaps for healthcare professionals as well as patients.  It seems that chronic pain is a multifactorial experience and treatment requires an integrated, multidisciplinary approach.
Chiropractors frequently help to manage patients who have cMSP.  In particular, chiropractors see patients who have low-back pain (LBP), neck pain, tension headache, osteoarthritis (knee and hip), and fibromyalgia as common examples of cMSP. Best practices for the chiropractic management of patients with cMSP include:
nonpharmacological treatments such as including acupuncture, spinal manipulation/mobilization, and other manual therapy
modalities such as low-level laser and interferential current
exercise, including yoga
mind–body interventions, including mindfulness meditation and cognitive behavior therapy
lifestyle modifications such as diet and tobacco cessation
Unfortunately, about 50 million adults in the United States continue to suffer from chronic pain, including 20 million with pain
that often interferes with work or life.  The COVID-19 pandemic only seems to be making matters worse by further exacerbating the impact of chronic low back pain, particularly in African American patients and the older population, by reducing access to guideline informed noninvasive treatments.
References:
Pain and Function in Chronic Musculoskeletal Pain-Treating the Whole Person. Mallick-Searle T, Sharma K, Toal P, Gutman A.J Multidiscip Healthc. 2021 Feb 10;14:335-347. doi: 10.2147/JMDH.S288401. eCollection 2021.PMID: 33603392 Free PMC article.
Management of Musculoskeletal Pain: An Update with Emphasis on Chronic Musculoskeletal Pain. El-Tallawy SN, Nalamasu R, Salem GI, LeQuang JAK, Pergolizzi JV, Christo PJ.Pain Ther. 2021 Feb 11. doi: 10.1007/s40122-021-00235-2. Online ahead of print.
Best Practices for Chiropractic Management of Patients with Chronic Musculoskeletal Pain: A Clinical Practice Guideline. Hawk C, Whalen W, Farabaugh RJ, Daniels CJ, Minkalis AL, Taylor DN, Anderson D, Anderson K, Crivelli LS, Cark M, Barlow E, Paris D, Sarnat R, Weeks J.J Altern Complement Med. 2020 Oct;26(10):884-901. doi: 10.1089/acm.2020.0181. Epub 2020 Jul 30.
Demographic Characteristics Associated With Utilization of Noninvasive Treatments for Chronic Low Back Pain and Related Clinical Outcomes During the COVID-19 Pandemic in the United States. Licciardone JC.J Am Board Fam Med. 2021 Feb;34(Suppl):S77-S84. doi: 10.3122/jabfm.2021.S1.200352.