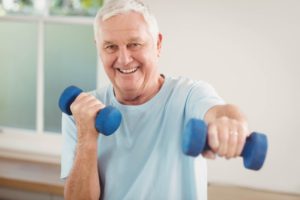 Muscle health and physical activity are very important factors to support healthy aging. It is well known that people of all ages benefit from regular physical activity. Exercise reduces the risk of coronary heart disease, hypertension, certain kinds of cancer, type 2 diabetes, and many other chronic diseases. However, muscular strength is an important component of physical fitness with an independent role in the prevention of many chronic diseases.
More than 80% of people in the United States who are older than 65 years have 1 or more chronic medical problems, and 50% have 2 or more.  The cost of care for the elderly is at least 3 to 4 times that of younger populations and is rapidly growing, mostly because of a lack of preventive approaches and overly medicalized and fragmented care. Physical exercise is one of the few strategies able to improve muscle health in old age through multiple metabolic and gene induced adaptations. Clinicians could use nutritional supplements and exercise strategies, especially protein supplementation plus strength (resistance) training, to effectively improve the physical activity and health of all older patients. Recent evidence, shows that chronic low-grade inflammation also contributes to the loss of muscle mass, strength and functionality, referred to as sarcopenia. Sarcopenia affects both muscle protein breakdown and synthesis through several metabolic pathways. The therapeutic potential of anti-inflammatory strategies is of great interest, as these might add up to/support the anabolic effect of resistance exercise and/or protein supplementation.
The benefits of resistance (strength) training:
improved glycemic control and muscle strength in elderly patients with type 2 diabetes
resistance training with high intensity can be a strategy to treat patients with type 2 diabetes and sarcopenia associated with aging
its helps to restore loss of activity of the endocrine system with aging
there is evidence that physical exercise induces activity of the growth hormone-insulin-like growth factor-1 axis and so produces anabolic effects in skeletal muscles
physical exercise may increase local effects of sex steroid hormones, and this may be more important than levels of circulating sex steroids for the maintenance and function of skeletal muscles
in elderly women, both increased physical exercise and reduced body fat may decrease levels of circulating sex hormones
strong functional benefits for older adults with osteoarthritis
older adults with osteoarthritis benefit from a strength-training program that provides progressive overload to maintain intensity throughout an exercise program
strengthening exercise programs for the core and hip muscles can improve the mobility of older adults, reduce kyphotic posturing, and reduce the risk of osteoporotic vertebral fractures
high-intensity resistance training has been demonstrated to improve bone mineral density in lumbar and femoral bones
resistance exercise with focus on strengthening the back muscle extensors can be beneficial in the management of osteoporosis, especially in postmenopausal women
muscle quality (strength relative to muscle mass) increases with resistance training in older adults possibly for a number of reasons, including increased ability to neurally activate motor units and increased high-energy phosphate availability
resistance training in older adults increases power, reduces the difficulty of performing daily tasks, enhances energy expenditure and body composition, and promotes participation in spontaneous physical activity
current research has demonstrated that strength-training exercises have the ability to combat weakness and frailty and their debilitating consequences
References:
1: Lee J, Kim D, Kim C. Resistance Training for Glycemic Control, Muscular Strength, and Lean Body Mass in Old Type 2 Diabetic Patients: A Meta-Analysis. Diabetes Ther. 2017 Jun;8(3):459-473. doi: 10.1007/s13300-017-0258-3. Epub 2017 Apr 5. Review. PubMed PMID: 28382531; PubMed Central PMCID: PMC5446383.
2: Theodorakopoulos C, Jones J, Bannerman E, Greig CA. Effectiveness of nutritional and exercise interventions to improve body composition and muscle strength or function in sarcopenic obese older adults: A systematic review. Nutr  Res. 2017 Jul;43:3-15. doi: 10.1016/j.nutres.2017.05.002. Epub 2017 May 11. Review. PubMed PMID: 28739051.
3: Liao CD, Tsauo JY, Wu YT, Cheng CP, Chen HC, Huang YC, Chen HC, Liou TH. Effects of protein supplementation combined with resistance exercise on body composition and physical function in older adults: a systematic review and meta-analysis. Am J Clin Nutr. 2017 Oct;106(4):1078-1091. doi: 10.3945/ajcn.116.143594. Epub 2017 Aug 16. Review. PubMed PMID: 28814401.
4: Lopez P, Pinto RS, Radaelli R, Rech A, Grazioli R, Izquierdo M, Cadore EL. Benefits of resistance training in physically frail elderly: a systematic review. Aging Clin Exp Res. 2017 Nov 29. doi: 10.1007/s40520-017-0863-z. [Epub ahead of print] Review. PubMed PMID: 29188577.
5: Guizelini PC, de Aguiar RA, Denadai BS, Caputo F, Greco CC. Effect of resistance training on muscle strength and rate of force development in healthy older adults: A systematic review and meta-analysis. Exp Gerontol. 2017 Nov 28;102:51-58. doi: 10.1016/j.exger.2017.11.020. [Epub ahead of print] Review. PubMed PMID: 29196141.
6: Dalle S, Rossmeislova L, Koppo K. The Role of Inflammation in Age-Related Sarcopenia. Front Physiol. 2017 Dec 12;8:1045. doi: 10.3389/fphys.2017.01045. eCollection 2017. Review. PubMed PMID: 29311975; PubMed Central PMCID: PMC5733049.
7: Janssen JA. Impact of Physical Exercise on Endocrine Aging. Front Horm Res. 2016;47:68-81. doi: 10.1159/000445158. Epub 2016 Jun 27. Review. PubMed PMID: 27348867.
8: Byrne C, Faure C, Keene DJ, Lamb SE. Ageing, Muscle Power and Physical Function: A Systematic Review and Implications for Pragmatic Training Interventions. Sports Med. 2016 Sep;46(9):1311-32. doi: 10.1007/s40279-016-0489-x. Review. PubMed PMID: 26893098.
9: Strasser B, Volaklis K, Fuchs D, Burtscher M. Role of Dietary Protein and Muscular Fitness on Longevity and Aging. Aging Dis. 2018 Feb 1;9(1):119-132. doi: 10.14336/AD.2017.0202. eCollection 2018 Feb. Review. PubMed PMID: 29392087; PubMed Central PMCID: PMC5772850.
10: Seguin R, Nelson ME. The benefits of strength training for older adults. Am J Prev Med. 2003 Oct;25(3 Suppl 2):141-9. PubMed PMID: 14552938.