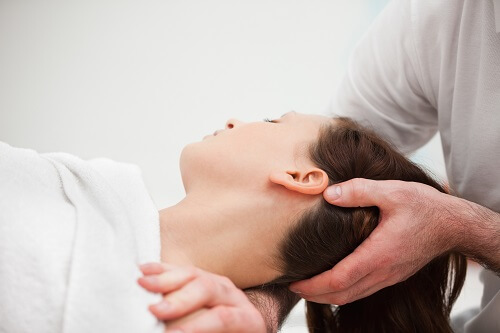 Craniosacral therapy (CST) is a gentle hands-on technique that works with the soft tissue structures of the body aiming to release restrictions around the spinal cord and brain and subsequently restore body function (1).  The craniosacral system is defined as a recognized, functioning physiological system, including the membranes and cerebrospinal fluid (CSF) surrounding the spinal cord and brain, the bones to which these membranes attach and soft tissue related to these membranes. There is evidence to suggest that reduced CSF flow may have adverse systemic health effects (6). CSF stasis may be associated with adverse mechanical cord tension, spine dysfunction, reduced cranial rhythmic impulse and restricted respiratory function. Various structural and energetic therapies may have the effect of enhancing CSF flow, but little is known about their mechanism of action.
Craniosacral therapy is a treatment typically used by chiropractors, massage therapists, osteopaths and other therapists. CST has varying degrees of evidence to help with a number of conditions:
Infantile colic: Craniosacral Therapy (CST) helps in reducing crying hours and colic severity in infantile colic. CST helps to increase the sleep hours in infants dealing with infantile colic (2).
Low back pain: Ten sessions of craniosacral therapy resulted in a statistically greater improvement in pain intensity, hemoglobin oxygen saturation, systolic blood pressure, serum potassium, and magnesium level than did 10 sessions of classic massage in patients with low back pain.
Chronic neck pain: CST was shown to be specifically effective and safe in reducing neck pain intensity and may improve the functional disability and the quality of life up to 3 months after treatment. Particularly in chronic and recurrent neck pain, CST may be a worthwhile treatment option. Further studies with rigorous methodological designs and long-term follow ups are needed to confirm CST efficacy in neck pain treatment (3).
Concussion: In a case series, ten sessions of specific CST/VM/NM therapy resulted in statistically greater improvements in pain intensity, ROM, memory, cognition, and sleep in concussed patients (4).
Migraine headaches: The results of a cross-over experimental study indicate that

craniosacral

treatment can alleviate migraine symptoms. Further research is suggested (5).
A new study (7) looked at 10 randomized clinical trials (RCT) involving CST consisting of 681 patients with neck and back pain, migraine, headache, fibromyalgia, elbow pain, and pelvic girdle pain. The study was a systematic review and meta-analysis which is thought to be the highest level of evidence in scientific studies.  The authors conclude that in patients with chronic pain, there were significant and robust effects of CST on pain and function lasting up to six months. They also state that more RCTs strictly following CONSORT are needed to further corroborate the effects and safety of CST on chronic pain.
In our office, Cindy Schneider, OTR/L, occupational therapist does Craniosacral Therapy and Dr. Jane uses craniosacral techniques also.
References: